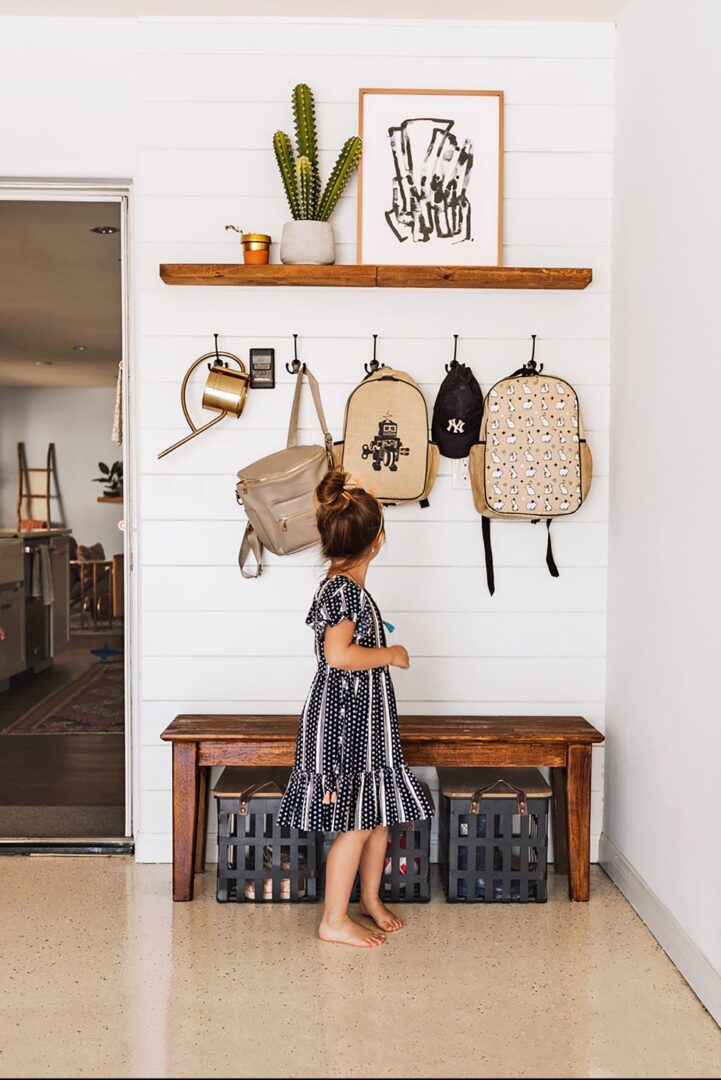 Planning and Creativity
can keep your space organized
Rain, snow, leaves, grass, and everyday debris can get dragged into your living spaces. Good news is that if you have a small entrance space, you can have a mudroom to help keep your home cleaner and more organized. The secret to a very functional and successful entrance strategy is to consider the needs of your household members, including your pets.
Think about what everyone needs as they walk in and out of the door – the front and the back entrances.

Use the vertical space creatively – use hooks, shelves, and cubicles to increase valuable floor space.

When possible, have a flip-top bench, with shelf storage at the top, or cube options, and shoe space at the bottom.

Baskets and Bins are also perfect. They can be personalized for each house member, or they can be arranged by theme – i.e. keys, hats/gloves, mail, toys, house shoes, etc.

Give "pizzaz – style – and personality" to your entrances / mud rooms. Add a mirror over the bench or shelves to give a "larger and stylish" look to your space. Decorate a corner with a nice tall metal, or nice non-breakable, vase because it is a great place to keep your umbrellas.
The truth is that human behavior tends to follow habits and trends. We are more likely to keep everything neat and tidy if the space is well designed, stylish, and there are simple guidelines to follow.
Call my team to assist with all of your organizing, cleaning, and relocation needs.
We De-clutter, Clean, Disinfect, and Organize Your Space To Save You Time And Simplify Your Life